MIRAKN®
is a unique formulation, based on mix of carbon dioxide (CO2) with active ingredient
and doesn't contain any solvent. Unlike conventional spraying technologies, it could
disperse ultrafine particles which travel through the air to reach every corner in the
premise and able to control a wide range of crawling and flying pest insects. Three
products with different active ingredient are available for professional use to solve
your pest problem.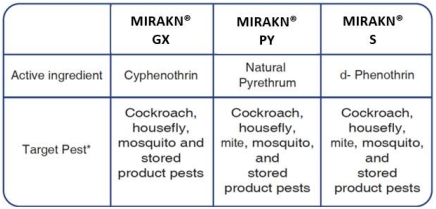 *Please read and follow product label directions and precautions
Why choose MIRAKN® technology
Effective against a wide range of crawling and flying pest insects.
✓ Suitable for indoor use.
(food factories, hospitals, schools, hotels, warehouses, poultry farms etc)
✓ Short re-entry and minimize operation loss by treatment.
✓ Super dry treatment, leaves no wet residues.
✓ Non-flammable and odourless.
✓ No stain walls, machinery, carpet, furniture, etc.
With MIRAKN®, your pest management professional could determine the
right perimeter treatment plan to get rid of unwanted pests even those
live in hidden places. However, continued pest management may be
necessary to keep the unwanted pests from re-infesting your premises.
Safety and precautions
⧫ Turn o the smoke detector
⧫ Wear a mask and protective clothing
⧫ Provide adequate ventilation after treatment
⧫ Toxic to aquatic life